Wiesman Development is Omaha's oldest and one of the largest exclusively commercial private developers. Founded in 1955 by Benjamin Wiesman, it began with the ownership and management of duplexes and apartments. Within a few years, the company expanded into the development of office, retail and industrial properties. By the mid-sixties, it specialized exclusively in commercial real estate.
In the mid-sixties, Wiesman "brought on line" the very first call center in the world for Whirlpool Corporation in Michigan. This coordinated construction effort, with the assistance of AT&T, Collins Radio, and many equipment suppliers, was the first customer service call center in the world.

Wiesman Development is a full-service office, retail and industrial real estate developer. If the client desires, Wiesman Development selects the land, designs, builds (through a related entity, Build and Lease, LLC), leases and then manages the facility after the client has moved into its premises. Providing consulting services, separately or in conjunction with other functions, is another facet of the company.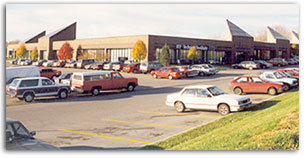 Throughout its history, Wiesman Development incorporated state-of-the-art energy-conserving designs and materials into all buildings, utilizing double-pane thermal insulated glass and entry vestibules, double-thickness of roof and exterior wall insulation, HVAC economizers, and other energy-efficient components. These construction techniques became the basis for the "green eco-friendly" buildings of today. These environmentally friendly energy practices were passed on to the building users in the form of lower operating costs. Pioneering the use of these energy-saving and other quality-controlled standards, built into its buildings from the start, has given Wiesman's clients excellent value.

The company has numbered among its customers AT&T, Qwest, First Data Resources, American Express, Alltel, Windstream, Union Pacific Railroad, Hewlett-Packard (H-P), Children's Hospital & Medical Center, Methodist Hospital, Hyatt Hotels, Avis, Budget Rent-A-Car, Stryker Orthopaedics, ITT, Waitt Media, and many others.



Our reputation for over 55 years has been built on strong client relationships and outstanding quality and service at a competitive price.